New Frontiers for Activism in AI and Tech
Plus where we are with covid, key pieces on Ukraine, remembering Marcia Rioux, and much more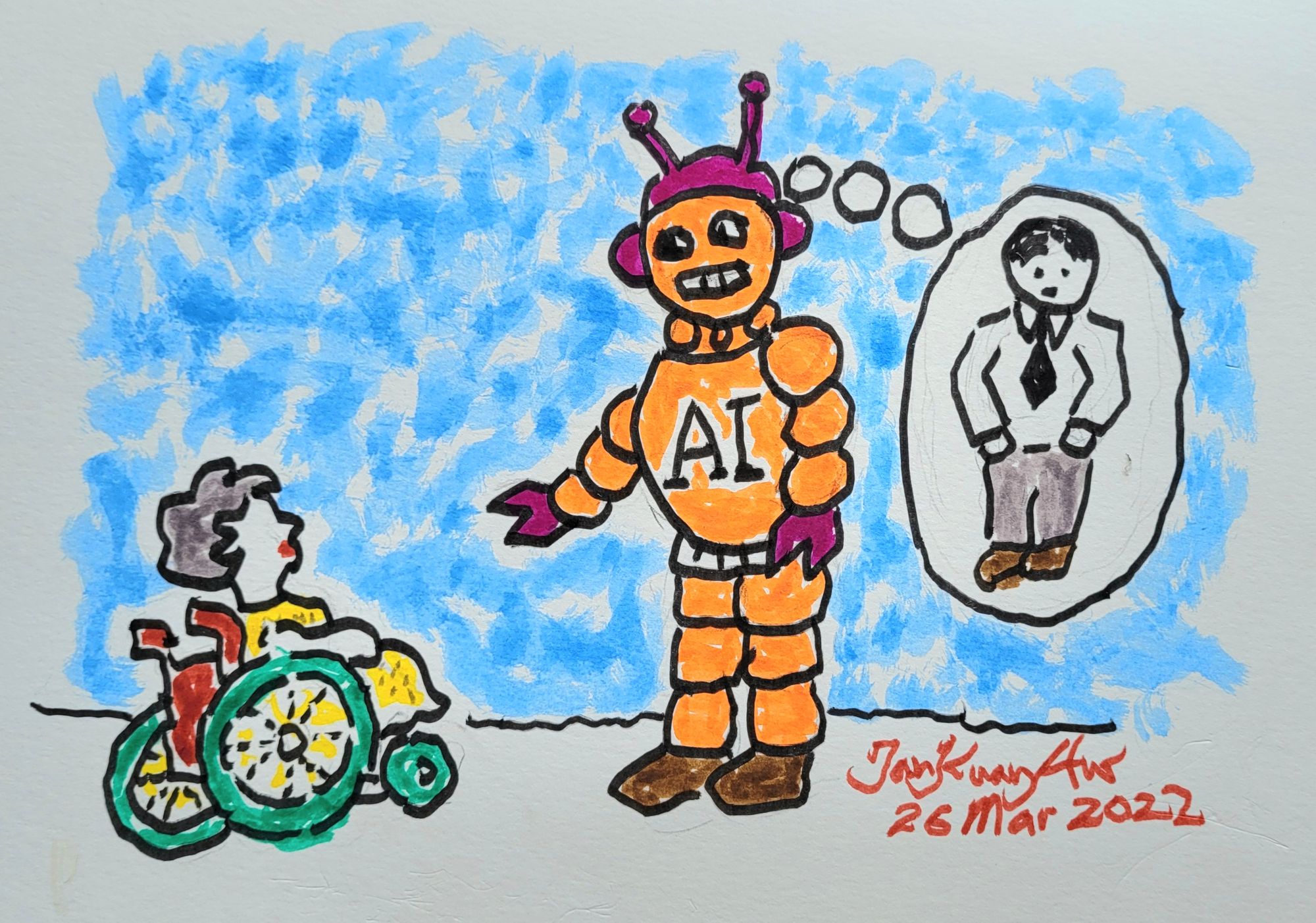 Hey Debriefers,
It's time for our disability news buffet. Today we're going into space and science fiction, and we're seeing what needs to be done to stop machines learning to discriminate against us.
We check-in with the covid pandemic now that it's two years old, and highlight key pieces on the situation of disabled people in Ukraine. I take this opportunity to remember Marcia Rioux, a brilliant advocate on disability rights, who passed last year.
There's also a tickets giveaway for a disability-themed dance show in London.
After that, there's the curated news, over 300 links from over 50 countries. This edition picks up from the last news update, a feature on Ukraine, and Áine on climate change.
Machines are learning to discriminate against us
Our lives are already shaped by Artificial Intelligence (AI), whether in tools that we use everyday or sometimes hidden decisions that determine our lives. Looking into AI with a disability lens brings into relief the risks and opportunities and the urgent need for our community to be more involved in shaping this issue.
A new report by Gerard Quinn is an important overview that aims to shift the debate on this subject. Gerard is the independent expert that tells the United Nations system what's what on disability issues and he shows how AI has contributed to our disabled lives, whether it's in text-to-speech tools or robots that clean our homes.
At the same time, a new area of discrimination has emerged as AI can so easily compound existing exclusion. It might raise health insurance premiums for disabled people or exclude us in recruitment processes. Facial recognition software, used in education, the workplace and for security, creates issues for faces that don't conform to an expected standard.
Often we approach new technology in terms of "accessibility": Gerard acknowledges these concerns but insists our key focus be on how these tools are impacting persons with disabilities: "Front and centre is the question of equal treatment or discrimination." We need to see this impact across the many areas of life AI is being used or affecting: work, education, health, privacy concerns and more.
The question of AI and equity isn't one for the future, it's one that we need to address now, and incorporate into the strategies we adopt on disability inclusion.
A new alliance, Disability Ethical? AI, has been formed that does just this, in the field of employment: "AI-powered recruitment technology threatens the life chances of hundreds of millions of people with disabilities worldwide". The alliance insists that disability be part of the work being done more widely on equity and AI.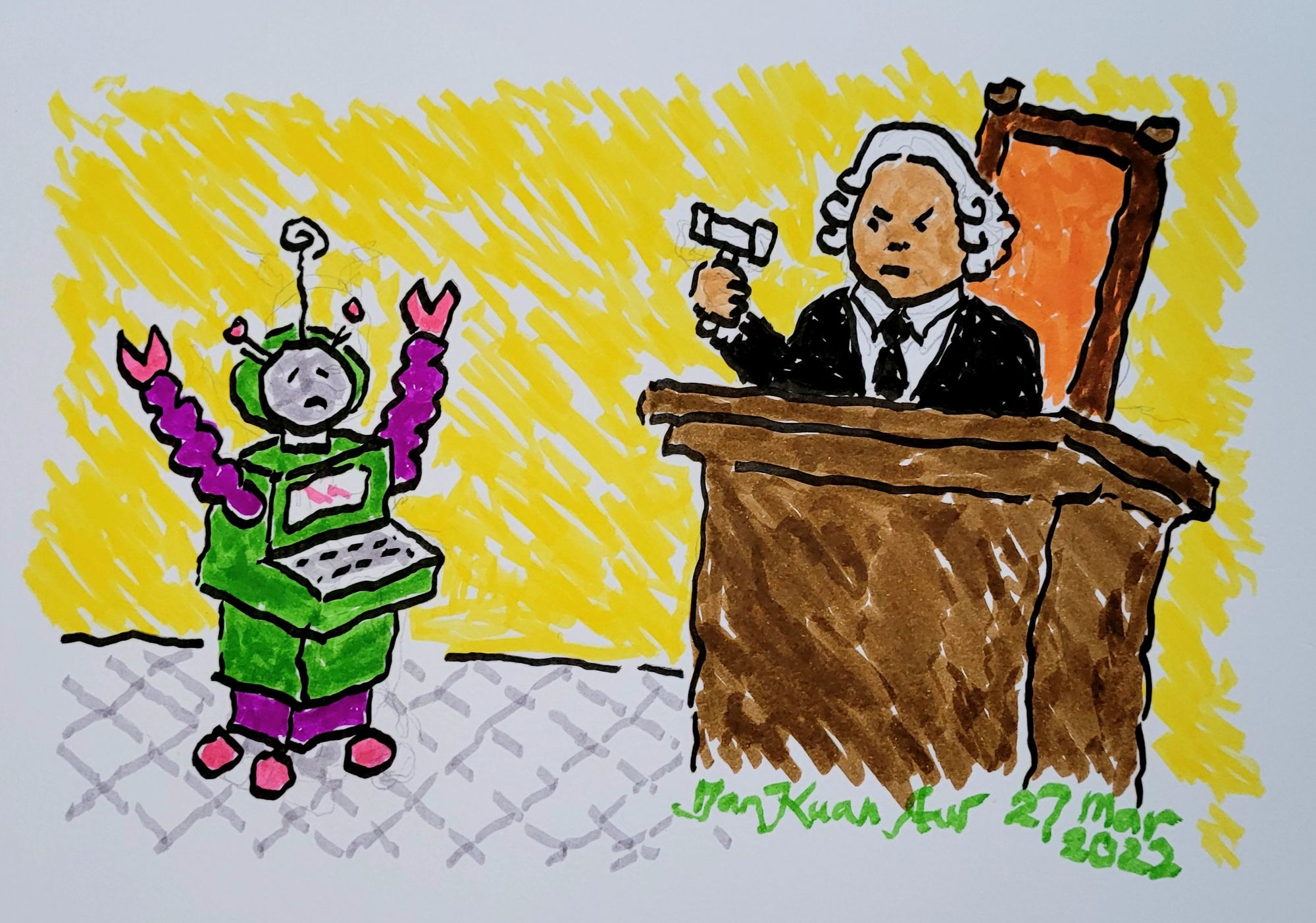 For more, I found this podcast with Ethan Zuckerman helpful, taking a step back on how AI systems "calcify systemic biases into code", entrenching societal bias. The conversation does mention ableism but there is no transcript, and the accompanying article doesn't mention persons with disabilities. Go figure.
Who's in charge of the technology?
Taking a step back, there is a useful overview on the key questions on information technology and disability justice, in the US context. As in the AI work, it also asks us to go beyond the question of accessibility to look at "agency" we have within the tech systems relating to disability.
The essay points towards how there can be institutionalisation in the digital sphere, even as we move out of institutions in physical settings. As in the offline world, disabled people have to relinquish private information to gain access to public life. For instance, the need to explain why you need captions, and for them to be enabled, rather than accessibility being the default.
The question of privacy is a timely one, with this month seeing reports of a cyberattack accessing data of disability services in Ireland and a data breach potentially exposing information on applicants for disability aid in the US.
Speaking of taking charge, there's an amazing Radiolab episode on disabled people developing space exploration. When you think of alien life forms, do you assume they have vision? The episode takes us on a journey starting from a paper about a blind race of aliens, to a zero gravity flight of folks a range of different disabilities. As well as looking at lessons this can have for wider space exploration, the journey reflects back on inclusion at home.
I hadn't thought very much about disability and science fiction — my friend Josh told me about Eyeth, the fictional space where people communicate primarily through visual means rather than with sound. (Gettit? EYEth not EARth.) I'm definitely in the market for more examples of this kind of thing if y'all know more.
Incidentally, we should also give props to Radiolab for another brilliant episode on disability themes, and doing them with good transcripts. Last time Áine shared the episode on remembering Helen Keller which is an amazing rollercoaster ride.
Happy birthday (to the covid pandemic)
March saw the second anniversary of the covid pandemic, a disease that has an official toll of over six million people. The pandemic created a worldwide crisis that devastated lives, and reversed economic and social progress. Much as the vaccine has been a miracle of scientific achievement and logistic distribution, "the divide between the vaccine haves and have-nots is not only huge, it's growing".
It's hard to reflect on what this means for persons with disabilities. In richer countries, the experiences of disabled people continue to be urgently raised as countries abandon monitoring and protecting agains the disease. In the rest of the world I'm not seeing so much information on how the disease and the crisis is affecting disabled people and how we will come out into the next phase. After our urgent claims last year to have access to the vaccine, I don't see information on how that's playing out.
In a crucial piece to understand this moment that we're not yet through, Ed Yong asks, in the US context, "how this many deaths became normal?" Yong's reflection applies to understanding disability in the pandemic: "To grapple with the aftermath of a disaster, there must first be an aftermath." Another key thing that the article points out is that lifting our covid-related precautions makes us vulnerable to the next crisis too: "the inequities that were overlooked in this pandemic will ignite the next one—but they don't have to."
The covid crisis led to big transitions in many of our lives, whether or not we experienced the disease directly or not. I went from a pre-pandemic life of globe trotting to barely tottering, in a disability decline probably sped up by lockdown. Staying at home turns out to be more dangerous than my travels, and I had a serious accident whose rehab process is slow, uncertain, and in the past month or two quite dispiriting. (I'm lucky also to have had many positives in these two years, and growing this newsletter is one of them. Thanks for being part of that.)
In terms of where we are with the pandemic, everyone is making their own decisions in as much as they can in the context of an overall move in the direction of pretending it's not there anymore. My current approach is still to be pretty cautious.
After much of my life insisting on inclusion in as many spaces as I could get to, I now feel forced to keep myself safe by practicing a self-exclusion from a society opening up without caution.
On the war in Ukraine
My last piece on Ukraine was a detailed feature. These are the key pieces since then:
See in the curated links below for more. Needless to say, in the scale of devastation and horror of this war, the information available seems to only scratch the surface.
Appetizers
Disabled people in China: great to see some features accompanying the Winter Paralympics. Some of it implied the rest of us are doing better on disability rights; some of it had amazing claims about poverty reduction that I would love more context on. My favourite was the the BBC Ouch features, an article and great podcast, with transcript. It shows how the lived experience of disability in China has changed, people rioting in wheelchairs and how that's now shifted to more subtle approaches of activism.
Just disabled enough: Thanks to Rosie Jones, a British comedian, for articulating the "perfect amount of disabled". I think I've played this role too.
"I am being facetious but hear me out. I look disabled and I sound disabled, but I am not too disabled. I can appear on a panel show without disrupting the whole programme. There's no need for subtitles, ramps or additional needs. I'm a TV producer's dream!"
A few people gaining power in an unjust system. Alex Haagard's essay on disability and design points out that inclusion of people with disabilities without changing how the system operates, can end up entrenching exclusion of those who are marginalized. An important question to raise for disability work in general as it's a risk of advocacy for minority groups.
Disability where I didn't expect it: in proposals for a UN Convention on Tax; as it points out, tax systems should support realization of goals relating to equality.
For our rights, not the far right: In France, 23 million voices is a campaign for the presidential candidates to take on the issue of disability.
WTF moment: a town in Ghana had prohibited marriage between two deaf people. BBC segment on one couple defying the ban.
Words of the month:
"Gratitude. I'm never sure whether it means 'being thankful' or 'not being uppity'." — Marina Hyde, in the Guardian
"'Loss of independence' is a misleading euphemism for the transition from needing normalized care to needing stigmatized care." — Brianne Benness, on twitter
About the newsletter
I'm Peter, and I make Disability Debrief to keep track of how the world is changing for persons with disabilities. You can see all the issues online or search the archive of disability news since 2020. Disability Debrief is supported by readers. This edition is produced with support from Center for Inclusive Policy.
Dance Giveaway (London)
A Debrief reader is offering a tickets giveaway to a disability-themed contemporary dance piece in London. On 18th May Reflections is showing at the prestigious venue The Place, and is a show "inspired by memories of a young disabled child living on a boat in the jungle in Cambodia".
The dancer, Nadenh Poan, is a graduate of Epic Arts. Lavinia Davolio, as well as being a Debriefer and dear friend, is a board member of Epic Arts and has a few tickets she would be happy to offer Debrief readers. Contact Lavinia directly on laviniadavolio at gmail.com.
Remembering Marcia Rioux (1947-2021)
Marcia Rioux, a Canadian academic working on disability around the world, passed away last September. I only found out a few weeks ago, in an email about continuing one of her initiatives. That's perhaps a sign of how we knew each other, a loose, international connection based on a shared mission.
I met Marcia first when I was based in Dhaka, and then we met again in conferences and jetting around, in Toronto, Vienna and Geneva. She was a warm person with a sharp view on rights, always focussed on what would benefit disabled people and with little patience for bullshit. As well as our deep conversations I remember fondly some of her asides at conferences, conspiratorially pointing out an issue with what was going on.
Marcia's work with Disability Rights Promotion International created networks around the world. I'm perhaps an outlier on those, so I want to share the words of one of the brilliant people she introduced me to, which speak to the impact she had.
Radoš Keravica, now doing a phd on disability at Leeds, told me how Marcia was a key figure in his life and career. "I owe much to her for introducing me to disability activism and supporting me on my path. She touched so many lives." As he wrote for her memorial:
"She made a bold decision at that time to hire me as a very young disabled person. She preferred to give chance to young people and help them develop their expertise along the way rather than relying only on well-established experts. She believed in people even when people didn't believe in themselves.

She encouraged us all to express our ideas and to implement them and treated us all as equals in the conversation regardless of the difference in knowledge and experience between us. She would say 'yeah, go do it' but provided meaningful support and guidance for that.

After working for her, I asked her for a recommendation letter for the next job I was applying for. [S]he drafted 4-page letter with such kind and flattering words that when I translated it and showed it to my mother she cried almost not believing that someone is writing about me :)"
Going back over the notes I took on our conversations, I see some from 2014, with Marcia and friends at a restaurant in Toronto. I was at a turning point in my career and apparently we'd been talking about things I could do without going into academia. One of the suggestions was a "newsletter for disability organizations". Well, that's what I do now. It only took me six years to start.
Thank you, Marcia. You showed us how we can go forward. You still do. ❤️
All-you-can-eat news buffet:
We have over 300 links from 50+ countries, organized by these topics:
War in Ukraine
Accessibility and Design
Ageing
Assistive Technology
Black Lives Matter and Racial justice
Braille
COVID-19
Civil Society and Community
Climate Crisis
Culture, Entertainment and Media
Data and Research
Digital Accessibility and Technology
Disaster Risk Reduction and Crisis Response
Education and Childhood
Employment, Business and Work
Gender Equality and Women and Girls with Disabilities
Global Disability Summit
Health
History and Memorial
Housing
Humanitarian, Migrants and Refugees
Institutions and Deinstitutionalization
International Cooperation
Justice Systems and Legal Capacity
Lived Experience and Opinion
Mental Health
Mobility, Travel, Transport and Tourism
Policy and Rights
Politics and Elections
Relationships, Sex and Reproductive Rights
Sign Languages
Social Protection, Poverty and Costs of Disability
Space Exploration
Sport and Paralympics
Violence and Harassment
Water and Sanitation (WASH)
War in Ukraine
Ongoing updates on the situation of people with intellectual disabilities and their families in Ukraine. Includes a concern about what a future after the conflict will look like: given stoppages of day-care services, "A new wave of institutionalisation is a great danger specifically for persons with intellectual disability." (Apr, Inclusion Europe)
A video feature on What support do people with disabilities need? (Apr, Aljazeera)
Situation in Ukraine
One month of the Russian war on Ukraine in the words of families of people with intellectual disabilities. Photos and testimonies from around the country in this vital collection:
"Children are locked between four walls, do not have proper communication. After the explosions, many people have a fear of going out in the streets. All our achievements have come to nothing."
"They bomb outside the window; we sit in apartments with adult children who do not understand why you can't go outside, why you can't go to the centre. They have problematic behaviour and epilepsy seizures."
"I'm from Mariupol. It is hell." (Mar, Inclusion Europe)
Public Health Catastrophe Looms in Ukraine "Even before the war, the country struggled with epidemics of H.I.V., tuberculosis and hepatitis. The conflict threatens to undo decades of progress." (Mar, NYT) See also in the Independent.
An unfolding horror story: Ukraine's disabled population has been left behind (Apr, iNews)
People with disabilities cannot escape the terrors of war (Mar, Huckmag)
'I feel so lost': The elderly in Ukraine, left behind, mourn (Apr, AP News)
Attacks on disabled people and facilities
Ukrainians With Disabilities At Breaking Point As Russian Onslaught Bears Down (Mar, Forbes)
'Thank You for Not Killing Us' An ordeal at a mental health facility in Ukraine illuminated the horrors of the Russian occupation, as the facility was taken hostage:
"The siege at the mental health facility dragged on for weeks, during which the building lost heat, water and electricity, and more than a dozen patients lost their lives. What unfolded there represents the depths of despair and at the same time amazing pluck under a brief but harrowing Russian occupation." (Apr, NYT)
Leaving Ukraine
Rules and documents from the Ministry of Social policy on who can accompany children and people with disabilities when crossing the border (in Ukrainian, I used google translate, Mar, HB)
Ministry of Social Policy reports on the evacuation of About 5,000 children from vulnerable categories being brought up in institutional care facilities (Mar, Ministry of Social Policy of Ukraine)
The Informal International Network Getting Disabled Ukrainians Out of the War Zone Important especially in highlighting the active role persons with disabilities themselves play in humanitarian response. (Apr, Time)
The hearing impaired Ukrainians fighting to survive war (Mar, La Prensa Latina)
I fled Ukraine with a disability. "In this state of war, you start to think differently. You understand that HIV therapy is your life, and you understand just how badly you need access to this therapy." (Apr, Business Insider)
In Poland, Special assistance is needed for some refugees on those with disabilities arriving in Poland (in Polish, March, Rzeczpospolita)
Response
Why we must not forget older people and people with disabilities in Ukraine (Mar, LSHTM)
In the humanitarian response, the Age and Disability Technical Working Group is a forum for exchange and working to "effective mainstreaming of age and disability into the humanitarian response" since 2015. (Apr, OCHA Humanitarian Response)
A nice photoessay on the Luhansk Association of Organizations of People with Disabilities and the work they did before the most recent invasaion as well as how they are responding now. (Mar, UNDP)
In Europe, the European Union Agency for Asylum Response to the War in Ukraine (Apr, EUAA)
Appeals and Statements
World Blind Union stands united with Ukraine and is taking action to help (Mar, WBU)
the UN Head of Human Rights Monitoring Mission in Ukraine on the situation in Ukraine: (Mar, OHCHR)
UN Committee warns that 2.7 million people with disabilities at risk (Apr, OHCHR)
In Ireland, Disabled Women Ireland Statement on supporting disabled people arriving from Ukraine (DWI)
Resources
Resources, particularly from Germany and Slovakia, on Support for Sick, Disabled and Deaf People affected by the war. (Nowar.Help)
Disability Inclusion Helpdesk Report Impacts of the Ukraine invasion for persons with disabilities and priority entry points in humanitarian response. (11 Mar, Inclusive Futures)
Protection Monitoring Highlights on how organizations are supporting displaced persons, including persons with disabilities. See the protection snapshot of 7th April for brief notes on support to those remaining in institutions. (Apr, Protection Cluster Ukraine)
Generations Beat Online had put together news links on the situation of older persons in Ukraine (Apr, GBO News)
HelpAge have a series of blogs on the situation of older people in the war. (Apr, HelpAge)
Accessibility and Design
Global guide: Access for all Creating inclusive global built environments. (Mar) See a summary of the contents on Fair Play Talks.
The Against List. Reflections for designers to engage with disability, and questions to ask to avoid this dynamic:
'We have realized that advocating for "more disabled people in design" without advocating structural changes to what design is, how it operates, and what problems it seeks to solve is just advocating for a select few people to gain more power within an unjust system, while allowing the marginalization of others by that system to become more entrenched.' (Feb, Alex Haagaard)
In Africa, Assistive Technology Innovate Now launch of its 5th Cohort on Digital AT and Entrepreneurship (April, AT Innovate Now)
In Albania, Short video on accessibility to infrastructure, public services and information for persons with disabilities. (Mar, Down Syndrome Albania)
In Nigeria, Lagos: Life with a disability in the African megacity (Mar, Aljazeera)
In the United States, 'Where the bats hung out': How a basement hideaway at UC Berkeley nurtured a generation of blind innovators (Mar, Stat)
Ageing
As part of the Age with Rights campaign a Global Rally calling for the stronger protection and promotion of older people's human rights. (Mar, Global Alliance for the Rights of Older People) See also from Human Rights Watch.
A background paper Measuring the Autonomy, Participation, and Contribution of Older People (link to pdf, March, Center for Inclusive Policy)
UN Advocacy Brief on Older Women: Inequality at the Intersection of Age and Gender (Mar, Decade of Healthy Ageing)
A meeting of the working group dedicated to strengthening the protection of the human rights of older persons. (Apr, UNDESA)
In Europe, Policy brief revisiting Mainstreaming Ageing: "A more effective integration of ageing into all policies at all levels will enhance societal preparedness for population ageing and benefit all age groups." (Feb, UNECE)
Assistive Technology
A systematic review of global population-based research Estimating need and coverage for five priority assistive products. "The finding of high unmet need (>60%) for each of the five APs emphasises the need to secure political prioritisation and funding to expand access to AT globally." (Jan, BMJ Global Health)
Evidence brief on promoting access to assistive technology for individuals with disabilities in Low- and Middle-Income Settings. "Limited access to assistive technology is exacerbated by the lack of awareness about assistive technology and what the technology can offer to people with disabilities". (Dec, Disability Evidence Portal)
In the United States, This is old, but I liked seeing this wheelchair kitted-out to plow snow with tracks and an attached blade. (2016, WOWT 6 News)
Black Lives Matter and Racial justice
DisCrit Expanded a collection of essays where "a diverse group of authors engage in inward, outward, and margin-to-margin analyses that raise deep and enduring questions about how we as scholars and teachers account for and counteract the collusive nature of oppressions faced by minoritized individuals with disabilities, particularly in educational contexts. " (Feb, TC Press)
In the United States,
Braille
In South Asia, Seeing with fingertips: essay on the history and variations in Braille, including how they are used to render different scripts and languages. (Mar, Himal Southasian)
COVID-19
Impact
Five ways older women are affected by the pandemic. "With only 35% of older women confirming daily mobility out of their house by themselves, 2 in 3 older women faced restricted mobility." (Mar, UN Women)
In the United Kingdom,
Health and healthcare for people with disabilities in the UK during the COVID-19 pandemic: "As the UK opens up, it is important that health care services and social policy address the poor mental health and social isolation of people with disability so that the inequalities occurring early in the pandemic do not become further entrenched." (Jan, Disability and Health Journal)
Covid-19 and the Crisis in Social Care: Exploring the Experiences of Disabled People in the Pandemic: "the social care crisis has challenged the goal of independent living.". (Apr, CUP)
In the United States, Covid is making more people disabled and exposing America's tattered safety net (Mar, MSNBC)
Response
After 2 Years of Covid, We're Still Failing Older People. Part of a series marking the two year anniversary of the Covid-19 pandemic:
"Two years after the start of the Covid-19 pandemic, governments around the world are still failing to protect the rights of older people. From ageist comments by public figures to persistent staffing shortages and use of chemical restraints in care homes, the protection of older people's rights has been put under the spotlight like never before -- and comes up lacking." (Mar, Human Rights Watch)
Commissioner Announces Inquiry into Support of Disabled People During Omicron (Mar, HRC)
In Australia, As COVID-19 cases rise, disability advocates say CDC isn't doing enough
In China, 310,000 seniors living alone in Shanghai and young people who help them (in Chinese, Apr, QQ)
In New Zealand,
In Sweden, Evaluation of science advice during the COVID-19 pandemic in Sweden "Many elderly people were administered morphine instead of oxygen despite available supplies, effectively ending their lives." (Mar, Humanities and Social Sciences Communications)
In the United Kingdom, 'Completely Inhumane': Government's Relaxed Approach to COVID Represents a Regression for Disabled People's Rights (Mar, Byline Times)
In the United States,
Living with COVID
In Canada,
In the United States, Patients with long covid symptoms face tough disability benefit fights: "Patients and doctors say safety net is unprepared for novel claims stemming from the pandemic". (Mar, Washington Post)
Civil Society and Community
The United Nations and others celebrated World Down Syndrome Day (Mar, UN)
In Iran, 'We exist but we are ignored': The Iranian disability rights activist on a mission to change things. (Mar, Independent)
In Kenya, Profile of John Wambua of the United Disabled Persons of Kenya. (Mar, Inclusive Futures)
In Middle East and North Africa, Arab Civil Society Organizations and the Issue of Disability, Inclusion and Sustainable Development (link to pdf, UNDEF)
In the United States, Foundations Pledge More Than $3 Million to Launch Disability-Focused Philanthropy-Serving Organization. See also on the disability inclusion pledge which has been signed by over sixty philanthropic organizations. (Mar, Disability & Philanthropy Forum)
Climate Crisis
The IPCC Sixth Assessment Report Climate Change 2022: Impacts, Adaptation and Vulnerability. "Across sectors and regions the most vulnerable people and systems are observed to be disproportionately affected." Recommends that inclusive governance address vulnerabilities and inequalities related to disability. (March, IPCC)
Áine's piece on the missing conversation about disabled leadership in climate justice. "Disabled people are expert adapters – we spend our lives figuring out how to live and thrive in a world which was not designed for us." (Mar, Stuff)
A feature exploring the link between disability and sustainability particularly from the view of the private sector. (Mar, Valuable 500)
A policy paper on Locating disability inclusion in action on climate change with advice targeted to the UK government to make their climate action disability-inclusive. (Mar, CBM UK)
Climate and sport: Paralympic champion Tatyana McFadden explains the link. (Apr, UN)
What I wish non-disabled people understood about disability and plastic. An illustrated coming showing "disabled people often suffer most from plastic pollution, but many also rely on plastic products for health, independence and dignity." (Mar, Greenpeace)
The Sangyan's posts on climate change include reflections on Climate Change, Disability, and the Capability Approach and the displacement of people with disabilities as climate refugees. (Mar, Sangyan)
In Europe, Joint Statement on the Social Climate Fund the fund "must be a transformative instrument tackling structural injustices" (Mar, EDF)
In the United Kingdom, A new Community Climate Action Plan in Bristol (Mar, Bristol DEF)
Culture, Entertainment and Media
23 New And Upcoming Novels With Disabled Main Characters (Mar, Buzzfeed)
A collection of poems by Disabled and d/Deaf Poets Curated by Leah Lakshmi Piepzna-Samarasinha. I enjoyed Sick4Sick by torrin a. greathouse, which opens:
"I think my lover's cane is sexy. The way they walk
like a rainstorm stumbles slow across the landscape." (Poets.org)
Geelong, an Australian ensemble of disabled actors, wins one of the world's richest theatre prizes (Mar, the Guardian)
Adaptive fashion: the $400bn opportunity to embrace Disability inclusion (Feb, MBS Group)
In Canada, Alt-Text & Ambiguity A Poetic Approach to Image Description by Alex Haagaard and Liz Jackson (Apr, Akimbo)
In Europe, A Narrative Literature Review of Barriers and Facilitators to Cultural Participation by People with Disabilities. Covers legislation and policies, funding and services, attitudes, accessibility and gaps in consultation.
"While adopting binding accessibility standards is important, to the extent that this results in a checklist approach to addressing barriers, it is unlikely to be sufficient. This is especially so given that existing guidelines can restrict themselves to addressing particular disability types and that many barriers occur in the realm of attitudes and lack of knowledge of a range of actors and in approaches to education. Moreover, standards alone are unlikely to address the need for support and interaction that seems necessary to facilitate access and participation, particularly for some groups such as people with [intellectual disabilities]." (Feb, Scandinavian Journal of Disability Research)
In Kuwait, A Talk with Reema Humood: Multiple Sclerosis and its Literary Representation.
"The love of caretakers who don't mean to suffocate you, but they do with their worries and fears, and the injustice and discrimination against people like me, rejecting us, excluding us, denying us the right to be…I discovered there was 'us' against 'them', the sick ones and the healthy ones, each group gazing at each other, afraid. Any attempt at meshing together, at understanding each other, stops and sinks in muddy waters" (Mar, Arab Lit)
In the United States,
Review of 'True Biz,' by Sara Novic (Mar, NYT) See also a discussion on Power, Privilege, and Love in a Residential School for Deaf Students (Electric Literature).
Contemplating Beauty in a Disabled Body "My looks don't fit into classical ideals of order, proportion, symmetry. So what was I looking for in that gallery in Rome?" (Mar, New York Times Magazine) An essay by Chloé Cooper Jones, whose book Easy Beauty has just come out. I enjoyed her discussion of the book on longform, sadly no transcript.
How The Grammys Got Accessibility Right, And What They Could Have Done Better - An Interview With Lachi (Apr, Forbes)
TV and Film
Team Zenko Go An All-New Disability Inclusive Series From DreamWorks Animation And Mainframe Studios. "Team Zenko Go has managed to avoid all too familiar disability tropes such as, for instance, villains, victims or inspirations." (Mar, Forbes)
CODA won an Oscar: a flawed triumph for the Deaf community. "The movie and the awards ceremony show the power—and limits—of on-screen representation." (Mar, Slate) See also the tension at the heart of CODA on the Atlantic.
'The Simpsons' Makes History With First Deaf Voice Actor and ASL (Apr, Variety)
In India, Will 'Jalsa' Improve Disability Representation in Indian Popular Culture? (Mar, BBC) See more on Surya Kasibhatla, the actor with cerebral palsy that stars in the thriller.
In Middle East and North Africa, Meet Ameera, Sesame Workshop's Newest Muppet Friend a young girl that uses a bright purple wheelchair and forearm crutches. (Mar, Sesame Street International Social Impact)
In the United Kingdom,
Let's storm Parliament! Then Barbara Met Alan is a film from BBC on the "punks who risked their lives to fix ableist Britain". See also on "these stories change how people think". (Mar, the Guardian) One line I enjoyed from the film: "It was 1990, nothing in law, just a pat on the head and a fuck off if you moan too much". See also a comment on what the film misses out.
Broadcasters unite to create 'passports' "that will remove barriers and support better inclusion of disabled people and other colleagues at work." (Mar, Channel 4)
In the United States, DisLabeled, a short pilot episode, The Original Hackers. "Join comedian Brian McCarthy and other disabled designers, creators, and advocates who help him navigate his sudden vision loss with humor, innovation, and authenticity." (Mar, Bric TV)
Media
In Australia,
In the United Kingdom, Channel 4 creative brief Disability Disruption commission "ripping up the playbook and showing disabled people as they have never been seen before on British TV." (Feb, Channel 4) See also coverage on Broadcast.
In the United States,
"Although I was happy to learn that Starbucks was trying to be more inclusive, to me, hiring people with disabilities isn't a big news story — and neither is a corporation making one store accessible to deaf and hard-of-hearing customers. I felt that the real story was how some of those workers had master's degrees, yet they had trouble finding jobs elsewhere because of their disability." (Feb, NYT)
Disability Matters: A toolkit for newsrooms to better serve the disability community (Apr, Reynolds Journalism Institute)
Data and Research
Report on how organizations within the UN are using Disability Statistics (link to pdf, Mar, UN)
The World Bank Open Learning Campus elearning module on Collecting Data on Disability Inclusion. (World Bank)
A video introducing the Center of Excellence on Data for Children with Disabilities (Mar, UNICEF)
How will data help us break the cycle of discrimination and intersectional disadvantages for girls and women with disabilities? (Mar, Inclusive Education Initiative)
Summary of an article on conducting online interviews with disabled young people during the COVID-19 pandemic. (Mar, International Journal of Social Research Methodology)
Short video on Why is it important to identify the population with disabilities? (Apr, Center for Inclusive Policy)
In China, Correlation between functional disability and quality of life among rural elderly in Anhui province,: a cross-sectional study. (Feb, BMC Public Health)
In Jordan, Government update on use of the Washington Group questions in the census and other surveys. (link to pdf, Feb, United Nations Statistical Commission)
Digital Accessibility and Technology
Let's Discuss: Mobile World Congress and the mobile disability gap reflections on mobile and digital inclusion (Feb, Valuable 500)
Artificial Intelligence
Special Rapporteur on the rights of persons with disabilities study on artificial intelligence and the rights of persons with disabilities. (link to pdf, Feb, UN) See also at EDF.
A new alliance for Disability Ethical? AI led by Scott Parker International, IBM, Oxford Brookes and others. "AI powered recruitment technology threatens the life chances of hundreds of millions of people with disabilities worldwide, as well as those of us who will become disabled in time." (March, Includes a collection of resources)
Bot can spot depressed Twitter users in 9 out of 10 cases (Apr, Tech Xplore)
Online Accessibility
Zoom Continues to Miss the Boat on True Accessibility. (Mar, Living with Hearing Loss)
New Department of Justice ADA Web Accessibility Statement reiterating that accessibility online is covered by disability discrimination. (Mar, BOIA)
Takeaways from The Internet is Unusable: The Disabled View (Apr, Lireo Designs)
Technology
Virtual Reality Accessibility: The Importance of Comfort Ratings and Reducing Motion (Feb, Equal Entry)
Virtual Reality Is Here to Stay. It's Time to Make It Accessible. VR "needs to be more open-minded when it comes to what its ideal gamer looks like.":
"VR's reliance on physical movements can be a deterrent for many players with motor disabilities. Beyond that, the headsets and screen resolution can lead to numerous barriers for low-vision users, so much so that games without appropriate features or accessible design are completely unplayable. And as accessibility evolves, the presence of VR is indicative of an industry that still has much to learn." (Mar, Wired)
In the United States, Who's in Charge? Information Technology and Disability Justice in the United States. 'Can disabled people be called "users" or said to "have access" to technology if they are regularly denied agency over how they use technology?'
"Disabled people in the United States are surrounded, defined, and, to some degree, controlled by data, technology, and information—from medical technology and therapies to educational systems to social and government services and policies that shape their lives. The extent to which they can access and use technologies to accomplish their own goals is less clear. This review discusses access to data and technology for people with disabilities, focusing on agency and digital transinstitutionalization—the extension of institutional frameworks, such as surveillance and control, from state hospitals into community settings via data-driven technologies." (March, Just Tech)
Social Media
How Captions In TikTok Videos And Dictionary.com Are Remaking Internet Culture And How We Literally Talk About Disability In Tech (Mar, Forbes)
Twitter begins rollout of alt text badges for greater accessibility (Mar, Engadget)
Disaster Risk Reduction and Crisis Response
The Special Rapporteur has a call for inputs on armed conflict and disability – the conduct of hostilities, military operations and peacekeeping operations (deadline 15 May 2022, OHCHR)
In Australia,
In Kenya, We have ignored the plight of persons with disabilities (Apr, Nation)
In Nigeria, A Bleak Future Awaits Abuja's Disabled Community After Fire Incident (Apr, HumAngle)
Education and Childhood
Evidence brief on utilising community resources to detect and support children with disabilities? - (Mar, Disability Evidence Portal)
Evidence brief on overcoming issues of access to digital learning for primary school learners with disabilities in LMICs during Covid-19.
"Primary school learners with disabilities continue to face barriers or continue to be left behind in online/digital learning solutions as a result of the enduring implications of the ongoing COVID-19 restrictions on education. However, access can be improved if, learners with disabilities, parents and their teachers are consulted in the design and implementation of digital learning solutions." (Jan, Disability Evidence Portal)
A research protocol for study of Effectiveness of Inclusive Interventions for Children with Disabilities in Low- and Middle-income Countries. (link to pdf, Mar, UNICEF)
A short guide on Achieving Quality Education for All (Mar, Centre for Inclusive Futures.)
The Committee on the Rights of the Child (CRC) and the Committee on the Rights of Persons with Disabilities (CRPD) adopted a Joint Statement on the Rights of Children with Disabilities (link to docx, OHCHR)
In Australia,
'Devastating impact': Rise in proportion of disabled students expelled from Victorian government schools during COVID pandemic. "We expect it to be worse this year," she said. "Every time students have gone back to school following a lockdown period, we have seen both formal and informal exclusions increase." (Apr, The Age)
In Bangladesh, Disability and Intrahousehold Investment Decisions in Education: Empirical Evidence from Bangladesh:
"we find the existence of disability bias on the part of parents, especially with regard to the enrolment decision for their children. Results from the direct method using the individual child dataset suggest that there is also a possibility of disability bias in investment decisions even for children who are already enrolled." (link to pdf, Asian Development Review)
In Europe, Better Health, Better Lives? 10-Years on From the World Health Organization's Declaration on the Health of Children With Intellectual Disabilities (Mar, Journal of Intellectual Disabilities)
In India, For kids with disabilities, the pandemic may have been a reprieve "If not going to school has given them their first taste of learning in a safe and happy place, then schools have to be made safer and happier now that they are heading back" (Mar, Indian Express) I'm sure this doesn't generalize, but great to see cases of people who had a better time.
In Nepal, How schools are including children with disabilities (Apr, UKFIET)
In Niger, Childhood disability in rural Niger: a population-based assessment using the Key Informant Method. (Mar)
In South Africa, Inclusive education in South Africa: path dependencies and emergences. "Addressing barriers to inclusive education seems to be less about clearing successive hurdles in a steeplechase race and more about understanding the complex ecology of education systems, and the various actors and socio-cultural, historical and economic processes that constitute these systems." (Apr, International Journal of Inclusive Education)
In South Sudan, feature on supporting access to education for children with disabilities: My Wheelchair, My Journey. (Feb, Education Cannot Wait)
In Syria, How Cognitive and Pyschosocial Difficulties Affect Learning Outcomes: A study of primary school children. "The findings suggest that psychosocial and cognitive support for children in emergencies is needed, not just for their wellbeing but to enable them to learn effectively." (link to pdf, Mar, Journal on Education in Emergencies)
In the United Kingdom, Changing Children's Attitudes to Disability through Music: "A core driver for change appeared to be sharing enjoyable musical activities with competent musicians who had disabilities." (Feb, Disabilities)
In the United States, Longest Sit-In in UCLA History Ends with Massive Victory for Students: "A 16-day sit-in by a coalition of students striking for hybrid access and equity for marginalized students got results. " (Feb, Knock LA)
Employment, Business and Work
What is the current evidence on promoting employment for people with intellectual and developmental disabilities? Recommends supported employment; little evidence from low- and middle-income countries. (Jan, Disability Evidence Portal)
An ILO report Transforming enterprises through diversity and inclusion. "Overcoming inclusion as a privilege of seniority is key to fully realizing the business benefits it offers" (Apr, ILO)
Is It The Yuk Factor? Disabilty Advocacy Is Growing Up. Interview with Susan Scott Parker. (Mar, Forbes)
The Valuable 500 Launch World's First Global Directory of Disability Inclusion Specialists (Mar, Valuable 500)
ILO Global Business and Disability Network Annual Report 2021 (ILO)
In the Asia-Pacific, A resource guide for employers on Tapping the potential of persons with disabilities (Mar, ILO)
In Australia, People with disability working for legal pay as low as $2.27 an hour, inquiry hears (Apr, the Guardian)
In Bangladesh, Conquering the challenges in employment: a film made by Bangladesh OPDs (Mar, i2i)
In Bhutan, "I want to achieve more, so that I can inspire more people" Living and Working with a Disability in Bhutan. A nice presentation of case studies and pictures from a project supporting disabled people with small grants. (Royal Thimphu College and Fora Education)
In Canada,
In Europe, The right to work: enabling people with disabilities to thrive in the job market (Feb, Euronews)
In Indonesia, New skills helped my business recover from pandemic. Feature trainings for entrepreneurs with disabilities. (Feb, ILO)
In Kenya,
In Moldova, Give people with disabilities a chance to work experience of a woman with disability working at an electronic systems company. (Mar, ILO Voices)
In the United Kingdom, Business Without Barriers: interviews with successful disabled entrepreneurs and personal accounts from employers who are helping to break down barriers to employment. (FSB)
In the United States,
Gender Equality and Women and Girls with Disabilities
Mama Cash report If you stay quiet, you stay invisible featuring eight profiles of feminist disability rights activism.
"The activist groups featured in this collection are doing ground-breaking work – often with relatively limited resources. Many of them depended on volunteer labour and worked from their homes before they received their first funding. Sufficient and good quality financial and other resources are crucial for sustained activism. This is a key recommendation that most of the activists in this collection made, and one that we feel strongly about emphasising and amplifying. Funders need to provide consistent, long-term, core support so that feminist disability rights groups can strengthen themselves and sustain their work." (Feb)
Policy discussion on barriers for disability organizations, and especially women with disabilities, to be involved in discussions on gender equality. (Apr, Center for Inclusive Policy)
In India, Women With Disabilities Have To Constantly Negotiate Between Isolation And Intrusion
"We noted in our conversations with women with disabilities that they experience social isolation and the invasion of privacy simultaneously. Their body becomes available to other people — parents, doctors, nurses, physiotherapists, groups of medical students doing the round of wards, for example." (Mar)
In Kenya, Profile of Easter Achieng (Mar, Inclusive Futures)
In Nepal, My Lens My Reality a photovoice study on the rights of women with disabilities. Appreciated the slippers that illustrate inclusion and exclusion (p16): "The slippers symbolize there are many members in the family. Dad, mom, brother, sister who are actually going outside to work. And me, I'm inside, with my disability, I was always in my room." (Mar, SDDC) Some great pictures in here - first time I saw a pic of slippers that illustrates exclusion (on page 16).
International Women's Day
Sightsavers joining the campaign to #BreakTheBias. (Mar, Sightsavers)
CBM Australia stories from women with disabilities. (Mar, CBM)
From Light for the World International: Women activists with disabilities say: "#BreakTheBias!" (Mar, LFTW)
What does it take to create a space for women and girls with disabilities? content of a webinar. (Mar, IDA)
In Cameroon, Break the Bias: Paving the Way for Women in Healthcare features Pascaline Mekati Matoko, the founder of Deaf Rights Cameroon Association.
In Mexico, Women's Disability Rights Should Not Only Exist on Paper: "demanding inclusion in services provided for women, particularly related to gender-based violence." (Mar, Human Rights Watch)
Global Disability Summit
Will the 2022 Global Disability Summit result in a more equal world? As well highlighting the achievements of the summit, a concern raised that "overall, there aren't enough commitments with concrete financing attached. " (Mar, Sightsavers)
Health
Inclusive Medicine and Medical Education: Increasing the Number of Clinicians With Disabilities "Their experiences as patients position them to provide recommendations for promoting patient-centered care and reshaping healthcare systems and delivery processes to increase accessibility and improve patient outcomes." (Feb, Global Public Health)
Evidence brief on what works to improve healthcare professionals' competency on disability: "Negative healthcare professionals' attitudes and stigma towards people with disabilities remain a major barrier in receiving equitable healthcare services. " (Jan, Disability Evidence Portal)
Disrupting Global Health: From Allyship To Collective Liberation:
"We must understand that many disabled people across the world have experienced public health and biomedicine in violent and oppressive ways; and that that history continues to resonate today. So, we must engage meaningfully with (involve them as stakeholders) disabled people's voices, opinions, activism, and advocacy," (Mar, Forbes)
Chronically ill face life-or-death challenges due to pandemic shortages. "Millions of chronically ill people struggle to get medical supplies amid global shortages." (Mar, Washington Post)
A focus on disability is necessary to achieve HIV epidemic control:
"People with disabilities often have lower levels of access and adherence to HIV treatment due to barriers with regard to the provision of services (eg, inadequate knowledge among health-care workers and inaccessibility of facilities) and the demand for services (eg, absence of autonomy and awareness of people with disabilities of HIV care needs and service availability). " (Apr, The Lancet HIV)
A selection of videos on rehabilitation from around the world shortlisted for WHO's Health For All Film Festival (Apr, WHO)
In Bangladesh, government launch of health insurance for persons with (some?) disabilities. (Mar, Asia News Network) Also on the daily star.
In Europe, EDF position paper Recommendations on cancer screening and treatment. "Unfortunately, the mention of persons with disabilities in EU policies does not translate into concrete actions to ensure their equal access to cancer screening and care, and to address the pre-existing inequalities and factors putting them at higher risk of cancer or inadequate care." (Feb, EDF)
In Ireland, disability and rehabilitation at the heart of its health system reform (Mar, WHO Europe)
In Jordan, Language in Medical Worlds: Hearing Technology for Deaf Jordanian Children "The focus on the acquisition of orality and speech for deaf Jordanians, to the exclusion of other forms of language and communication, can result in deaf Jordanian children not being able to communicate—in any modality—as well as their having a diminished sense of belonging to broader deaf collectivities." (Jan, Medical Anthropology)
In Norway, Balancing on a knife-edge: Experiences of older patients with acquired deafblindness when receiving existential care. "The patients can experience empowerment through the maintenance of trust and communion. However, if met with an overprotecting or neglecting attitude, older patients with acquired deafblindness can feel disempowered." (March, Nordisk Sygeplejeforskning)
In the United Kingdom, A BBC show Ellie Simmonds: A World Without Dwarfism?
"A pioneering drug is coming on the market that promises to make children with achondroplasia - Ellie's form of dwarfism - grow closer to average height. A genetic condition, achondroplasia is the most common type of dwarfism in the UK, and the new treatment raises the question: if cutting-edge medicine can stop disability in its tracks, should we use it?" (Apr, BBC)
In the United States,
In Zimbabwe, Should disability-inclusive health be a priority in low-income countries? This paper proposed four complementary arguments why it is important to focus on people with disabilities. They include a "a growing rationale that disability-inclusive health systems will work better for all" and "that they will create cost savings". (Mar, Global Health Action)
History and Memorial
In the United States,
Housing
Call for input on the Report on older persons and the right to adequate housing from the Independent Expert on the enjoyment of all human rights by older persons. (1st April 2022, OHCHR)
Humanitarian, Migrants and Refugees
International Rescue Committee UK: Step by step – our work to become inclusive. (Feb, EDF)
Migration data portal: Disability and human mobility (Feb, Migration Data Portal)
CBM's Humanitarian Hands on Tool is now available in more languages including Ukrainian. (CBM)
In Bangladesh, The Special Rapporteur on the situation of human rights in Myanmar visited the facilities at Bhasan Char island, where Rohingya refugees are to be relocated:
"Structures, including residential housing, appear well constructed and are considerably stronger and more durable than those in Cox's Bazar. Unfortunately, accessibility for persons with disabilities was clearly not factored into the planning and construction process." (Mar, OHCHR)
In France, Afghan Evacuees Need Mental Health Support (Mar, Human Rights Watch)
In Libya, Sudanese refugee with disabled son: 'UNHCR Libya does not answer my calls'. After a journey through Chad and Egypt they faced imprisonment in Libya and are searching for assistance. (Feb, InfoMigrants)
In New Zealand,
Institutions and Deinstitutionalization
In Canada,
Discussion of and key points on Sheltered Workshops and Sub-Minimum Wage Labour 'Workers on average work more than 2 years in sheltered workshops, despite their label of "training programs".' (Mar, Invisible Institutions)
Invisible Institutions Podcast "a new documentary podcast exploring the past and present of institutions for people labelled with intellectual and developmental disabilities" (Invisible Institutions)
In Indonesia, CBM kicks off work to improve mental health institutions. (Feb, CBM) Unclear how this fits into a process of deinstitutionalization.
In the United Kingdom, A new book, open access, Deprivation of Liberty in the Shadows of the Institution on how restrictive practices from institutions continued as services were provided in the community. (Mar, Bristol University Press)
International Cooperation
The High Level Political Forum will be in July: see the position paper on how it relates to disability and more from the Stakeholder Group of Persons with Disabilities. (IDA)
Working towards a more inclusive society: Five stories of how the UN is working with partners to advance disability inclusion. (Feb, UNSDG)
LFTW Fact Sheet on Intersectionality Unveiling intersecting discrimination (Mar, LFTW)
Tracking disability inclusion in multilateral organizations a report tracking how inclusion changed between 2018 and 2022. "Although this report finds certain progress regarding the monitoring of disability inclusion since the first Global Disability Summit, particularly on strategies and commitments, the findings discuss how the step from ambitions to documentation of successful disability inclusion continues to be limited. " (Mar, Fafo)
In Cambodia, New horizons for Light for the World Cambodia. "Our Light for the World Cambodia office has taken the exciting step of becoming a Cambodian non-profit." (Mar, LFTW)
In Indonesia, Disability Rights: A guide to monitoring compliance (Apr, Formasi Disabilitas)
In Kenya, Myth busting: a film made by Kenya OPDs (Mar, i2i)
In the Pacific, Australian leadership in disability inclusion at the 2022 Pacific Satellite Summit (Mar, CBM Australia)
In the Philippines, CBM partners with women leaders to create movement of change for disability "we are supporting the establishment of a federation of disability organisations in the Philippines to collect comprehensive data related to disability inequalities". (Mar, CBM Australia)
In Uganda, OPD Conversations: Building Confidence and Challenging Stigma and on inclusive communications during COVID-19. (Mar, CBM UK)
In the United Kingdom, Meeting the Ambition of the new FCDO Disability Inclusion & Rights Strategy (Apr, CBM UK)
Justice Systems and Legal Capacity
Call for input on the Report on older persons deprived of their liberty from the Independent Expert on the enjoyment of all human rights by older persons. (1st April 2022, OHCHR)
Evidence brief on promoting effective implementation of legal capacity as outlined in Article 12 of the UN CRPD in LMICs. "Reforms for legal capacity do not engage a wide variety of stakeholders, and instead tend to reinforce existing powers structures" (Jan, Disability Evidence Portal)
In Australia, Trapped, stripped of assets, and silenced. And it's all perfectly legal photo-essay feature on challenging public guardianship. (Mar, ABC News)
In the Caribbean, Study on Access to Justice for Persons With Disabilities in CARICOM Countries Published. See also part 2. (links to pdf, Dec, Improved Access to Justice in the Carribean)
In New Zealand, Alan Hall's controversial murder conviction set to be quashed after 36 years (Apr, Stuff)
In Singapore,
In Spain, Court confirms 14 years in prison for a former political leader for abuse of two persons with disability. (Mar, Eldiaro.)
In the United States, A discussion about the relationships between law, political economy and disability (LPE Project)
Lived Experience and Opinion
Satirical take on Five Ways to Accommodate Sighties in the Workplace "Turn on the lights. You know this." (Mar, Squeaky Wheel)
'I'm a TV producer's dream!' – Rosie Jones on the trouble with being the poster girl for disabled comedy:
"sometimes think I am the 'perfect amount of disabled'. I am being facetious but hear me out. I look disabled and I sound disabled, but I am not too disabled. I can appear on a panel show without disrupting the whole programme. There's no need for subtitles, ramps or additional needs. I'm a TV producer's dream!" (Mar, the Guardian)
In Australia, The Disability Pandemic:
"I lived in two worlds during COVID. One that suddenly got more open and inclusive, where I was asked to talk at events, on television, to Senate committees. I pasted lipstick on, and calmed my frizzy hair, adjusting a badly fitting shirt, so I could tell the world that disabled people needed help. Then I would scrub it all off, limp to the kitchen and face the anxiety swarm about there being no food." (Meanjin)
In Ireland, Does Representation Miss the Point When it Comes to Creating Body Diversity in Fashion?
"Looking back on my relationship with my body—and perhaps more importantly, the world's perception of it—it makes sense that I gravitated towards the fashion industry. Even in my teenage years, I knew that clothes could be used as a vehicle to create change. [...] It was also disappointing that such efforts were needed for people to see me the way I wanted to be seen." (Mar, Vogue)
In Kenya, Citizen Reporting series features small business owner's COVID-19 story (Mar, Inclusive Futures)
In the United Kingdom, What Does it Mean to Forge a Body? Autonomy through Disability Cures and Gender Transition (Apr, Catch these Words)
In the United States,
Dave Grohl, of Foo Fighters and previously Nirvana, talks about hearing loss: 'I've Been Reading Lips For 20 Years' "I'm a rock musician. I'm fucking deaf. I can't hear what you're saying." - and more on how he performs and makes music. (Feb, HuffPost)
'As I hopped across genres [of writing], and from page to screen, nondisabled people would ask, "Why don't you just be yourself?" and I would hear, in their question, Tell the story we expect: Your disabled life is very hard, you are very sad, but then you overcome it and are very happy. I refused. I'm not Cyborg Cinderella. I'm not a parable. I'm an artist.' (Mar, The Cut)
"It is harmful to be surrounded by people who are actively celebrating the eradication of your people. Because the reality is, average height people and corporations don't see us as a distinct people, as a culture. We are patients and a market. A majority of average height family members see us as a flaw in the genetic code, a reminder that their loved one is not EXACTLY like everyone else in their family. For some parents, our dwarfism is a reminder that there is always something that they will not fully understand about their child." (Mar, Disability Visibility Project)
Mental Health
COVID-19 pandemic triggers 25% increase in prevalence of anxiety and depression worldwide (March, WHO)
A briefing on Financing Mental Health For All as part of universal healthcare: "the opportunity for once-in-a-generation change". (Mar, United for Global Mental Health)
In Russia, Mental Health Crisis Looms in Russia as Sanctions Fuel Drug Shortages, Job Losses (Mar, The Moscow Times)
In the United Kingdom,
Mobility, Travel, Transport and Tourism
In Germany, A lawyer sues the Ministry of Transport to ensure access to trains. (in German, Feb, Rollstuhl Kurier)
In Greece, Cooperation Protocol signed with the Ministry of Tourism to promote accessible tourism. (in Greek, Mar, National Confederation of Persons with Disabilities)
In India, Representation to West Bengal Transport Authorities on procurement of accessible, low floor buses. (Mar, Freedom of Movement Coalition)
In Israel, Making Israel's history and heritage accessible for all (Feb, Jerusalem Post)
In New Zealand, Not Built For Me: Freedom, frustration in navigating public transport with a disability (Mar, Stuff)
In the United Kingdom, What makes an EV charging station accessible for people with disabilities? (Apr, WhichEV)
Policy and Rights
5 types of discriminatory laws that punish you for having leprosy (Jan, Leprosy Mission)
CRPD Committee Twenty-Sixth Session considered State reports of Hungary, Jamaica, Mexico,Switzerland and Venezuela. (Mar, OHCHR)
The proposal for a United Nations Convention on Tax aims to ensure that tax systems support realization of goals relating to equality, including the rights of persons with disabilities, and that States report on this. (Mar, Eurodad)
Unchaining Disability Law Global Considerations, Limitations and Possibilities in the Global South and East:
'Over the past years, there have been increased legal measures to protect and promote the rights of persons with disabilities. Yet there has been significantly less action in relation to direct prosecution, despite mounting global pressure from disability rights advocates. The majority of persons with disabilities continue to live on the margins of, and often outside, the law, as the law offers them little or no protection because of deep stigmatization, inequality, and marginality. Institutions designed to protect persons with disabilities in countries positioned on the "global peripheries of law" are "places in the world where it is particularly difficult to realize human rights in practice."' (Mar, AJIL Unbound)
In East Africa, Legislator Revives push for regional law (Mar, The New Times)
In Europe,
Improving Accessibility and Access to Rights – Implementing the Strategy for the Rights of Persons with Disabilities 2021-2030. (March, EU France 22)
President of the European Parliament committed to work on improving the rights of Europeans with disabilities. (Mar, EDF)
UN expert hails EU commitment to disability rights The Special Rapporteur's initial findings on his review of disability in Europe, celebrating efforts taken, and raising concern that some funding is still going to institutional arrangements for persons with disabilities. (Mar, OHCHR)
In Ghana, Learn How the Ghanaian Disability Rights Movement is Influencing National Policy. (Apr, DRF)
In Mexico, Mexico Bill Would Further Endanger Disability Rights "Right to Make Decisions Should Not Turn on 'Capacity'" (Apr, Human Rights Watch)
In the United Kingdom, UK Ministry of Justice Treats People with Disabilities as an Afterthought: "Human Rights Act Consultation Exercise Fails Fully to Include People with Disabilities". (Mar, Human Rights Watch)
In Venezuela, Experts of the Committee on the Rights of Persons with Disabilities Ask about Braille and Sign Language in Education and Public Life and about the Situation of Women with Disabilities (Mar, OHCHR)
Politics and Elections
In France, For the elections, a campaign 23 Million Voices of persons with disabilities and caregivers in France to remind politicians of the essential measures to integrate into their campaign program. (Mar, APF France Handicap)
In the United Kingdom, Breaking down Barriers: a report on Improving Disabled Representation & Participation (Mar, Disability Policy Centre)
In the United States, The Ignominious Deceits of Congressman Cawthorn "Representative Madison Cawthorn has misled the public about training for the Paralympics, just as he misrepresented his education and business history." (Jan, The Nation)
Relationships, Sex and Reproductive Rights
Evidence brief on promoting the sexual health of men and women with physical disabilities in low- and middle- income countries. (Dec, Disability Evidence Portal)
In Australia, We've Got This: Stories by Disabled Parents edited by Eliza Hull. (Mar, Black Inc Books)
In Europe, A petition to the European Union to End forced sterilisation in the EU now! (EDF) See also an op-ed asking Who is allowed to be a parent?
In Ghana, A town had banned deaf people from marrying each other one couple defied the decree for love. (Apr, BBC News Africa)
In New Zealand, More guidance needed for health providers on learning disability competency and sex education (Apr, Stuff)
In the United States,
Sign Languages
In Chile, In drafting of the new constitution sign-language has been recognised as an official language (Mar, UN Special Envoy on Twitter)
In Nepal, The eye and the other: Language and ethics in deaf Nepal (Mar, American Anthropologist)
In Uganda, Reasonable accommodation for Deaf persons on why provision of a sign language interpreter needs to be accompanied by further measures. (Mar, IDA)
In the United Kingdom, A Sociolinguistic History of British Sign Language in Northern Ireland. "The study shows how the Protestant schools played an important role in the transmission of BSL in the island of Ireland." (Mar, Sign Language Studies)
Social Protection, Poverty and Costs of Disability
Coalition of international organizations holding a conference on Disability and Social Protection (Mar, Social Protection)
A message to the IMF and World Bank: Targeted Safety Net Programs Fall Short on Rights Protection. (Apr, Human Rights Watch)
In Australia, National Disability Insurance Agency scrutinised woman's social media posts to challenge her eligibility for the scheme (Mar, the Guardian)
In Bangladesh, People with disabilities demand Tk 2,000 a month (Apr, New Age Bd)
In China, Disability inclusion key to rural revitalization. On how China's poverty alleviation measures supported persons with disabilities: "between 2014 and 2019, the registered number of persons with disabilities living in extreme poverty fell from 7.19 million to 479,000, and reached zero by 2021." (Mar, China Daily)
In Europe, Roadmap for user centered funding for long-term care and support. (Mar, UNIC Project)
In Ireland, Data accessed in Rehab disability group cyberattack (Mar, Irish Times)
In Kenya, What are the additional costs of living to people with disabilities? (Feb, Development Pathways)
In the Maldives, Process evaluation of the Disability Allowance programme in the Maldives. "Most importantly, the absence of linkages with the Medical Welfare scheme that provides assistive devices potentially limits the likelihood of the programme achieving intended objectives." (Mar, International Social Security Review)
In New Zealand, We need a welfare system that works better for people with disabilities (Apr)
In Pakistan, Detailed article on care and the situation of persons with disabilities. (Mar, Dawn)
In the United Kingdom,
In the United States,
Space Exploration
The Right Stuff a great episode exploring the ways we imagine space, space travel, and what that means for life back on Earth. (Mar, Radiolab)
Sport and Paralympics
Paralympic Classifications Are Meant To Level The Playing Field. Do They? Detailed breakdown of classification systems and results. (Mar, Five Thirty Eight)
See highlights and results of the Paralympic Winter Games held in Beijing between 4th and 13th March. (Mar, Paralympic)
As an Afghan Paralympian, sport gave me opportunities all disabled people deserve (Mar, the Guardian)
Book review of More Than Medals A History of the Paralympics and Disability Sports in Postwar Japan. (Mar, H-Disability)
Stop Calling Paralympic and Disabled Athletes "Inspiring". (Mar, Bitch Media)
A blog on Inclusion through sport and sports programmes that have promoted this. (Mar, LFTW)
In China,
"the perception of disability has changed a lot from my childhood. Now the group of people with disability is more diverse. So, some people are well educated and so they work for some big IT companies which are more open for us. And more importantly is that people with a disability can go outside to use the public transportation and also go shopping, and so the common people become more familiar with them. [...]"

"There were many public demonstrations before 2012, some of them legal, some of them illegal, and many of them broken up by the police. I remember there was a huge demonstration of wheelchair users in Anhui Province in about 2009 for various reasons, because people were being denied accessible homes. So, there was a big public movement at that time. And that's all stopped. You do not see public activism or protest any longer in China. But what you do get is people working in much more subtle ways." (podcast, with transcript, Mar, BBC)
In the United Kingdom, 'Stare at me because I deserve to be stared at': Lauren Steadman and the evolution of representation at the Paralympics (Mar, the 19th)
Violence and Harassment
The 1st of March is Disability Day of Mourning remembering people with disabilities who were victims of filicide (killed by their parents).
'When we say "filicide," we are talking about a pattern of violence that starts when a parent or caregiver murders their child or adult relative with a disability and continues in how these murders are reported, discussed, justified, excused, and replicated.' (March, Disability Memorial)
Rising Flame's From the Shadows to the Centre important collection of testimonies from women with disabilities. (link to pdf, Feb, Rising Flame)
Report on Harmful practices and hate crimes targeting persons with albinism. in a statement on the report, the Special Rapporteur said:
"For many persons with albinism, this is what their day-to-day realities entail – experiences of ostracism, rejection and the debilitating fear of being abducted or attacked on their way to school, work or home." (Mar, OHCHR)
Global estimates of violence against children with disabilities: an updated systematic review and meta-analysis. "This review shows that children with disabilities experience a high burden of all forms of violence, despite advances in awareness and policy in the past 10 years." (Mar, Lancet Child & Adolescent Health) See also coverage on Disability Insider: "1 in 3 children with disabilities globally have experienced violence in their lifetimes". And on NPR.
In Australia, 'Devastating': woman with a disability met with disbelief after sexual assault, royal commission hears. (Mar, the Guardian)
In Iraq, Understanding Gender-Based Violence Service Barriers to Disability and Older Age Inclusion in Iraq. (Jan, Heartland Alliance) See also the blog on inclusive research methodologies.
In Nigeria, How organisations of persons with disabilities are keeping people safe. Among disability organizations "there is limited understanding of key concepts of safeguarding, why they are important, and what needs to be in place to operationalise these concepts to keep people safe" (Mar, RSH)
In the Pacific, Know your rights: Gender-Based Violence and Sexual and Reproductive Health during the COVID-19 Pandemic. (link to pdf, Feb, Women Enabled)
In the United States, 2022 Anti-Filicide Toolkit. Parents murdering their disabled children is reported in the media as "justifiable and inevitable" and this contributes to a cycle of violence. (March, Autistic Self Advocacy Network)
Water and Sanitation (WASH)
In Vanuatu, "The weather is not good": exploring the menstrual health experiences of menstruators with and without disabilities:
"Menstrual restrictions were widespread for all, but collecting water and managing menstrual materials was harder for menstruators with disabilities, particularly those requiring caregivers' support. These factors negatively impacted menstruators with disabilities' comfort, safety and hygiene, yet they reported less interference of menstruation on participation. [...] Menstruators with disabilities may have reported less interference because they are accustomed to greater participation restrictions than others." (Jan, Lancet Regional Health - Western Pacific)
In Yemen, A feature on safe latrines for the Bait Al-Amir community includes a section on inclusion of persons with disabilities. (Feb, Sanitation Learning Hub)
Acknowledgements
Thank you to the new supporters who made contributions to keep this going: Simon, Firoz and Anne. Thanks to Tan Kuan Aw for the expressive artwork that helps tell the disability story, and for the newsletter logo. And thanks to Lavinia for the first giveaway on the Debrief!
The source for news here is all of you sharing disability news, especially those sharing on twitter. Thanks to everyone for spreading the word about what's going on.
These newsletters are produced by me, Peter Torres Fremlin. Any opinions or mistakes are mine. Many thanks to the Center for Inclusive Policy's support to this edition.
Cheers,
Peter