"We are not alone": Disabled people in Sudan's conflict
Mobility in crisis, and the systems of love that hold things together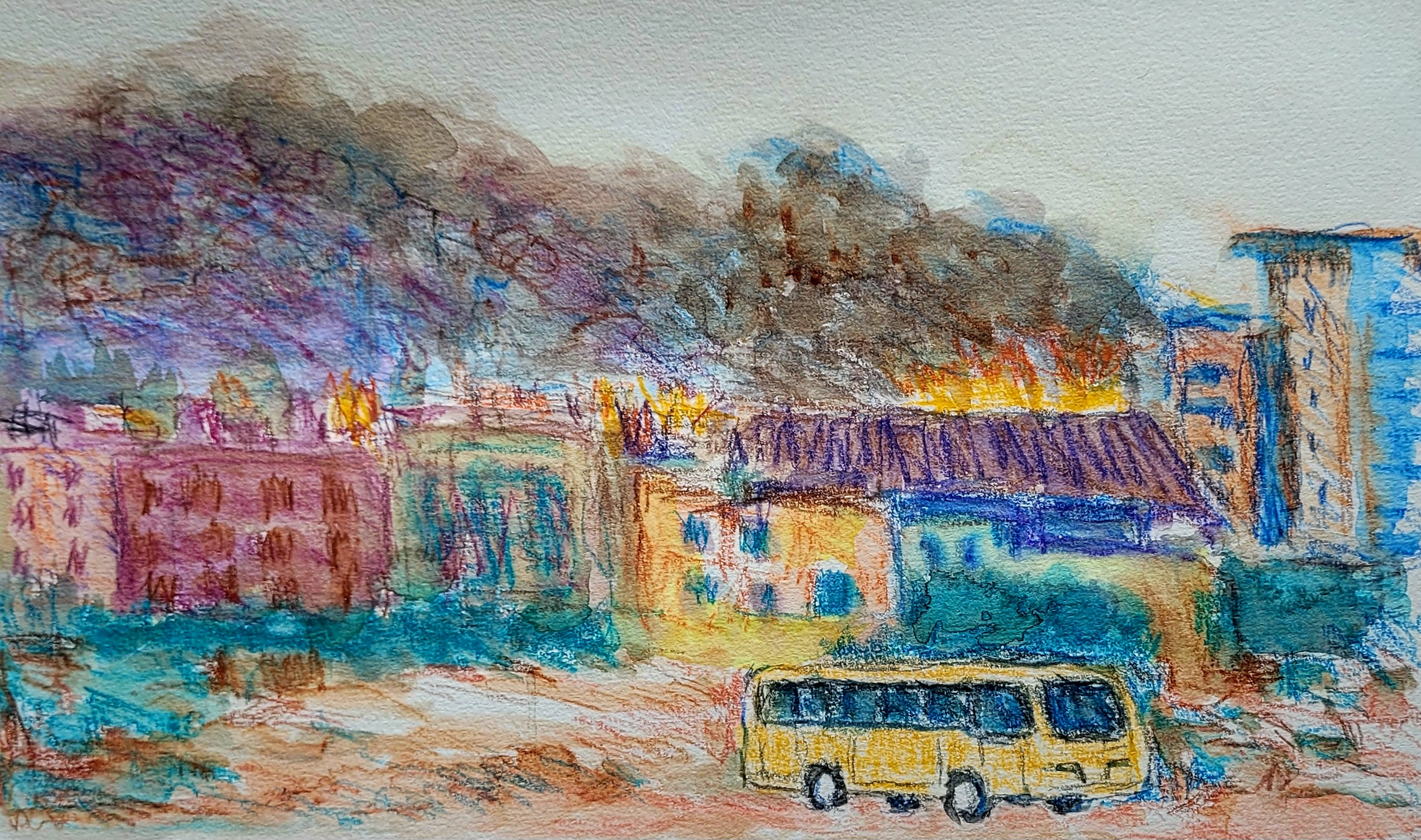 Note on content: this edition is about conflict and violence. A version is available in Arabic.
Dear Debriefers,
While I'm messaging with Khadidja, a military plane flies close over her house. Her mother comes in, screaming, somehow trying to rush Anna into the room.
Anna is Khadidja's sister, and has physical and intellectual disabilities. Their mother is having panic attacks and Anna is distressed by these loud noises and disturbances.
They are one of the families sheltering-in-place amidst the heavy fighting in Sudan. Strikes near their house in Omdurman are occurring several times a day, as early as 3am. One of the things keeping them there is the difficulty of attempting escape with Anna's disabilities.
This edition is a call for solidarity with disabled people in Sudan. It's about desperate circumstances, the institutions that let them down, and the systems of love that hold things together.
"Sudan's tragedy"
Sudan has a population of almost 50 million people. Even before the most recent violence, almost 16 million required humanitarian assistance. Sudan's tragedy is, according to commentator Nesrine Malik, that "of a country that dared to ask for more and is now being punished for it."
Omar Al-Bashir ruled the country for thirty years, which included the genocide in Darfur. Even under Bashir's rule, the public place of disability evolved rapidly. As with many countries, ratification of the United Nations Convention on disability rights was followed by new national legislation and increased government and civil society attention. A 2019 review found progress on disability rights, enthusiasm to improve the situation, but weak frameworks and implementation.
In 2018-2019, popular protest demanded Bashir's departure. He was replaced in a military push, and this started a supposed move towards to civilian government. A further military coup in 2021 interrupted this transition, detaining civilian leaders. Disabled people, including those with injuries from repression of popular protests, were among those protesting the coup.
Until this April, the army and paramilitary forces were sharing power. Rather than reach an agreement, the two generals stopped cooperating and "plunged the country into war".
There has been intense fighting and a breakdown of order in Khartoum and in Darfur. The healthcare system is collapsing and in al-Geneina, West Darfur, there is "complete destruction of key infrastructure". The UN estimates almost half a million have already left their homes, of whom 100,000 have managed to leave Sudan.
The simplest necessities of life
The fighting in Khartoum has left people in desperate circumstances. One of the disabled people I spoke to said that "danger is around everywhere and even inside your home".
Fateh Doka Abdel Sayed, a man with a mobility disability and president of the Sudanese National Union of the Physically Disabled told me about "very tragic conditions in terms of food, drink, and continuous treatments for the elderly". The building of his organisation in Shambat has been bombed, and:
"All people are in fear and panic, and there is a complete lack of services. I am suffering intensely, as there is no water, no electricity, no health service, and no trace of the existence of the simplest necessities of life."
An intersectional view of these challenges is difficult to develop with the limited information available. Sudanese Women Rights Action has a detailed brief on the situation of women and women human rights defenders that points out some of the risks exist from before the war.
As for Khadidja and Anna, they are lucky to have water, electricity and that their nearby market is open. They're able to get bread, vegetables and milk, "much better than other places". But they are running out of other supplies, including the adult diapers that Anna needs. Like many other families, disability and health are part of what prevents them escaping.
Mobility in crisis
Everyone is thinking about mobility, whether it's people stuck in their homes, those trying to reach trapped disabled family, or those making the arduous journeys out. The journey out of Khartoum is characterized by chaos, uncertainty, extortionate prices, lack of provisions and roadblocks from both sides in the conflict.
Anna needs the help of at least two men to lift her into a car. The neighbours are ready, and have cars to help, but gas is not available and it's not clear how they would go from there. They can go to their hometown of Port Sudan, but not only are they hesitant about the safety of roads on the way to the station, the bus ride would have serious access complications for Anna.
A friend-of-friends who made the journey from Khartoum to Egypt by road took, like many, a week to complete the journey. On the bus out of Khartoum her fellow-travellers included a woman suffering with asthma in the heat and with no water; and two older folk who lay down, unable to move, as their children stood for the entire journey.
People have died making the trip, Port Sudan is in chaos and the Egyptian border crossing isn't any better. Online, one person mentioned their mother not eating anything for four days straight because she did not have insulin while making the journey.
Aseel Geries, a public health activist working with for the Ministry of Health, told me that she saw many disabled people in the shelters found for people have fled the capital. Sudanese and foreigners got to the neighbouring state of Gezira in the back of uncovered trucks that set their health situation back. Hospitals there are overwhelmed with the new intake, everything is running out, and they are also trying to get doctors to see people in the temporary accommodation made in schools and dormitories.
Situation in institutions
Aseel also told me about the crisis institutions are facing in Khartoum. Orphanages are running out of formula, and nursing homes for the elderly running out of supplies. One disabled girl died in the shelling of a shelter for homeless girls. Social media has seen concern about the home for the elderly in Bahri, isolated and running out of water. Aseel adds that people with mental illnesses are getting released from psychiatric institutions unable to look after them.
In 2018, a disability project visited the Child Care Home, Al-Maigoma, which looks after children under the age of four. In 2018, the visitors found 24 children with disabilities. They had no specialised services. Some were staying beyond the age of four because other homes were rejecting them on the basis of their disability. The report asked for more investigation of children with disabilities in institutions: "It is noticeable that they don't live long".
Things are much worse now. Al-Maigoma is now in the middle of the fighting. Hundreds of children living there were cut off from supplies and people to care for them. On social media there are calls for specialists and nursing staff to support the home.
Global irresponsibility
Nesrine Malik described the source of Sudan's problems as a combination of "global irresponsibility and local dereliction". Unfortunately, "irresponsibility" continues to describe the international response. As embassies evacuated their citizens, they lost or destroyed the passports of those who had applied to visas: sabotaging the safety and futures of the Sudanese they leave behind.
One hint of a potentially more thoughtful response was from the United Arab Emirates, which evacuating people of 19 different nationalities, gave priority to elderly, the sick and people with disabilities. Egypt was apparently offering visas for "special cases", people with health conditions, but one family reports spending a week and not being able to get one.
The United Nations is making statements and situation reports and, very belatedly, starting to pay attention in the countries neighbouring Sudan. The International Organization of Migration, for example, managed to donate some wheelchairs in Egypt, albeit without comment on the understaffed and under-supported border crossing endangering people's lives.
As for what disability organisations are doing, the first step for those with presence in Sudan is, of course, trying to secure the safety of their staff. More widely, I have not seen any statements on the crisis in Sudan from the international disability sector, a sector which showed extensive concern for people with disabilities in Ukraine.
One of the people I spoke with had criticism of the disability organisations. A man with physical disability, who chose the pseudonym Hassan, told me about gaps in the sector:
"International organizations have specific goals and targets and don't give attention to persons with disabilities... Even those who are working in disability field don't give attention. Administration expenses take most of their funds, so nothing remains for the target group."
According to Hassan, the national organisations led by disabled people don't provide anything either because they "learned from [the international] organisations, their main donors". All this is before the conflict. "So what do we expect during the crises? Absence."
Systems of love
Abu Osama Abdullah Muhammad is a man with a mobility disability, and director of the NGO Nation of the Good. His career includes leading the Sudanese National Council of People with Disabilities from 2011 to 2016. During this crisis, he wanted to share the Sudanese customs that "may not be available in other cultures":
"The persons with disabilities are members of this community. We have the culture of extended family. This gives support in evacuation, assistance, and provision of their essential needs. Once the family decides to leave Khartoum, this will include persons with disability."
Citizens have been forced to become activists in all areas of Sudanese life to manage these crises. Whether it's grassroots volunteers, resistance committees, or those connecting on social media, "unsung heroes keep residents alive". Dinan Alasad, a citizen-turned-activist tweeted that she loves "how deeply we care for each other":
"We've learned to streamline it & do it so efficiently over the years. We've created entire systems out of love"
I did the reporting for this article using the same networks that people are using to share news, organise logistics and rescue those in danger: Twitter, Whatsapp, friends, their friends, and then their friends too. Many replied instantly and went out of their way to share, even as violence continued outside.
"It's not charity"
The reports I read on the situation of disabled people from a rights-based view did not acknowledge the importance of community and family ties, or the support that exists. They said about Sudan what they say about all countries: there's stigma, "blatant discrimination", misconceptions around disability, and too many approaches based on "needs" or "charity".
Of course it's important to think about who gets included or excluded from these networks of support. Rajaa Yahia Elsayeed, a blind woman, civil servant and member of the disability movement also shared that blind people were supported by their families and communities. And as for accessing information, she told me that from radio, television, and smartphones, "blind people are among the social groups that will get information the fastest".
Hassan, who had doubts about international organizations, also has them about support from community and family. He acknowledges the support is there, and did find a silver lining in having to stay at home with family, "finally having time to sit together and keep chatting". But he warns that "sometimes everyone is trying to save himself/herself... It's war."
To navigate these different approaches I spoke with Alaa Sebeh, regional advisor on disability for the United Nations in the Arab Region. He sees support from disability centres as usually driven by charity motive. But that's different from the community support. According to Alaa, the way extended families and neighbourhoods support each other is, "part of our culture in the Middle East". It helps bring out the best in people. "It's not charity, it's solidarity".
We are not alone
I've been checking in with Khadidja about how her family is doing. The last I heard is that she is positive things will go well, because one can't "escape their destiny... so might as well just take life lightly, why bother feeling bad?".
Khadidja's coping strategy is comedy. She comforts her mum by telling her that the loud noises and ground-shaking are "musical drum beats", the "daily anthem" of the paramilitary forces. "They just like to play a loud concert."
Doka, who told me there was no trace of the simplest necessities, wanted to "send a message":
"First, to the conflicting sides that they are ruled by the the voice of reason. Secondly, for United Nations agencies to have an intervention in this situation."
Abu Osama told me about the importance of community in Sudan, and also sees it outside:
"We appreciate your communication and your concern about persons with disabilities in Sudan. This contact shows to us that the persons with disabilities worldwide are concerned by the problems of their colleagues everywhere. We are not alone."
I hope we can hear their words.
Peter
Acknowledgements
This piece was only possible through the extraordinary generosity of people, in the middle of a conflict, to share their experiences and understanding with me. I am deeply grateful to those quoted in this piece, and the others I spoke to in Sudan and outside.
Thanks also to those who helped make connections, including Alaa Sebeh of UNESCWA, Jenny, and Dody. Without Dody insistently sharing news from Sudan I probably would not have written this piece.
The illustration of Khartoum is by Tan Kuan Aw. I counted on assistance with research, translation and transliteration from Ahmed Usama. As ever Áine Kelly-Costello provided important feedback and review. Jody Santos gave timely advice on reporting.
This edition has support from Sightsavers, Light for the World and the people and organizations that read it. It was written by me Peter Torres Fremlin. Any opinions or mistakes are mine.
Please do get in touch – press reply, leave a comment or find me elsewhere.