Call me in the morning
Disability culture highlights: Judy Heumann, Protactile and more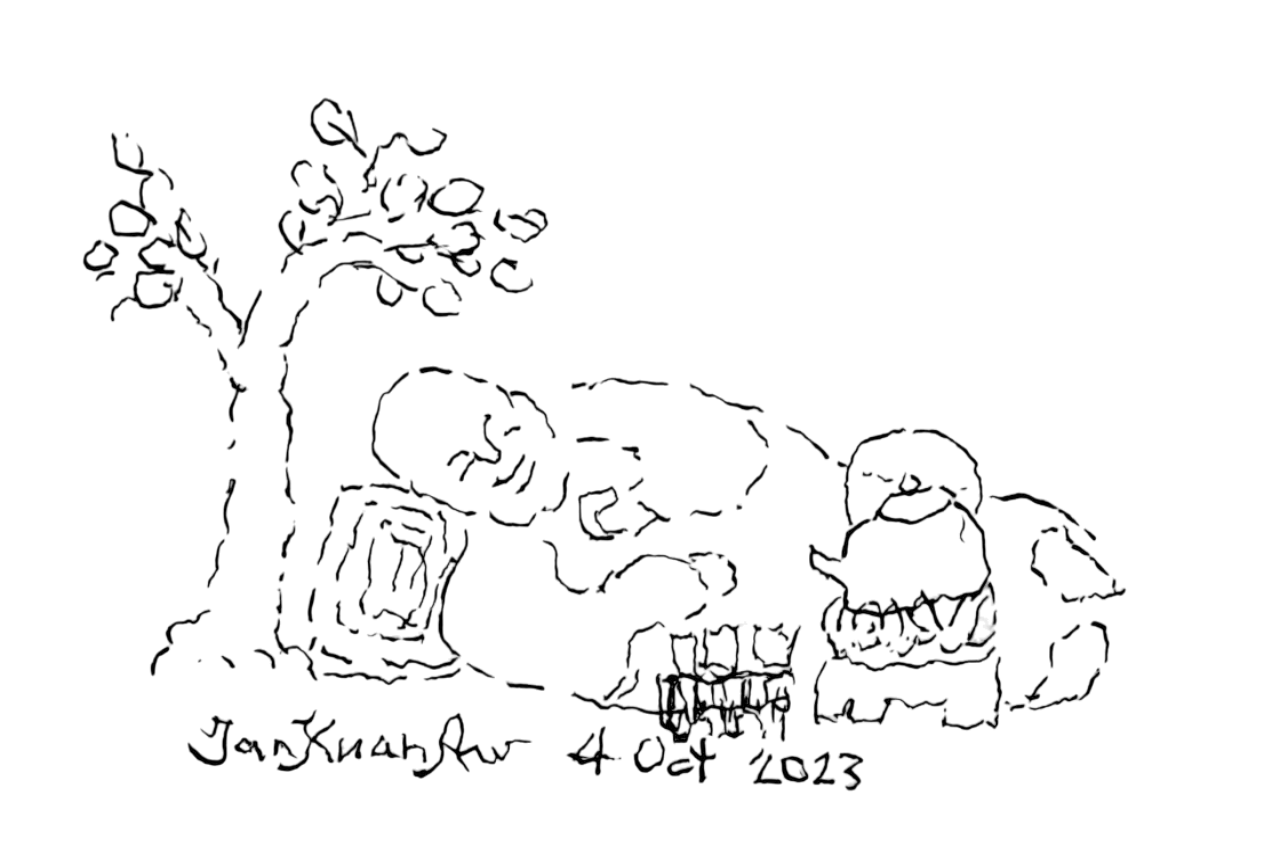 Hello Debriefers,
Today we're going deeper into highlights from the latest disability news. We continue to remember Judy Heumann, cross half of China in poetry, and explore new ways of using our skin.
This is the first time in a while I can share one of Kuan Aw's illustrations. Unfortunately he's had some health complications: in August he had a mini-stroke. He's been at home, and it's a great relief to see sketches of his recovery going well, "better each day".
Disability Debrief is supported on a pay-as-you can basis. This edition has support from Sightsavers and K. Li.
Call me in the morning
The disability movement is still processing the loss of Judy Heumann. Ford Foundation have made a short video commemoration of Heumann nature. And together with many in community, Lachi and James Ian made a beautiful and accessible musical tribute. Lift me up is a love song to Judy:
"You would call me in the morning
Just as I woke up
You wouldn't stand for it when I mumbled
So with you I spoke up
We would laugh about our dreams
And the world we wanted to see
And who I needed to be
For the world I wanted to see"
Judy's phone calls are a recurring theme in people's memories of her. Earlier in the year, Dan Mont, a longtime colleague and friend of Judy's, told me how she would be "advising, mentoring and encouraging people all day and night":
"Judy knew practically everyone connected to the disability rights movement. If she was talking to you and realized that it would benefit you to connect with someone else – for some information, for an opportunity, or just because she felt you should know each other – she would immediately call them and connect the two of you.

"Of course, being Judy, people always answered their phones. And it didn't matter who you were. She would connect a 16-year-old activist with the head of an agency, a person with a disability or their parents with a world renowned expert in their field. Every person was valued as a person and for what they could bring to the table. Everyone who knew Judy at least fairly well felt like they were her family.

"Her phone basically holds the entire history of the disability rights movement, in the US and globally. I heard that the Smithsonian museum asked for her wheelchair. They should've asked for her mobile phone."
Crossing Half of China to Sleep with You
Disability, Sexuality, and Gender in Asia is an open access collection exploring the experiences and activism of women and LGBTIQ persons with disabilities in Asian countries. I got into the paper on how women with disabilities are constructing identities in social media in China.
Online connections around disability in China go back at least two decades. The authors, Yue Xu, Chengqing Shen, Jiani Guo, and Wei Ton, tell a story with parallels to the growth of disability on the English-speaking internet. What starts off as sharing experiences of inaccessibility and bladder-control stories develops into "embracing rights and activism". And that journey happened even where a political context made folk wary of activism.
One voice they highlight is that of Yu Xiuhua, a woman with cerebral palsy from rural China who spills out her complicated personal life in poetry. The authors say she's different from other famous women with disabilities, who "often become inseparable from their inspirational objectification from the media". Rather, Xiuhua's poetry insists on her "body, emotions, as well as her experiences of disability and urge for freedom".
Xiuhua burst into celebrity in late 2014 with her poem "Crossing Half of China to Sleep with You" (translation):
"Across China, everything is happening: volcanoes erupting, rivers running dry, prisoners and exiles are abandoned, elk and red-crowned cranes are under fire.

"I brave a hail of bullets to sleep with you. I compress countless dark nights into one dawn to sleep with you."
I crossed a fair bit of the internet to get to know her better. In English, Dian Li explores her poetry and how it brings "fresh air to a contemporary Chinese poetry". Still Tomorrow, a documentary with English subtitles (hard-coded), shows scenes of her rural life and marital breakdown. It also shows how Xiuhua resists being put into the position of inspiration.
Speaking to an overflowing auditorium in Beijing, a young woman in the audience asks how Xiuhua accepts herself, and "how to be a happy and content woman?" Xiuhua's response is characteristically frank and painful. She says she still can't accept herself, and even in that moment wished her face were different. And "as for how to be a happy woman", she adds, "I don't have any experience. I can't tell you".
Our biggest organ is our skin
I'd heard of Protactile, but didn't know much about it. This American Masters feature is a great introduction to a language made from contact and touch, developed by deafblind people in the United States. "Our biggest organ is our skin," as one speaker in the feature says, "why don't we we use it?"
Using touch rather than vision or hearing is an important shift in how we meet others and the world:
'We learn an attitude that we internalize from a very young age: "Look, don't touch; look with your eyes, not your hands." And as we grow up, those thoughts are really embedded deeply within us and we have to do a lot of work to kind of unlearn, relearn, and recenter, and then apply the norms that we feel right about, that do fit us as DeafBlind people because hearing sighted norms do not.'
John Lee Clark is a poet and one of the philosophers of the Protactile movement. He coined the word "distantism" to show what touch and knowing the world in a tactile way is opposed to. Distantism is about "people who pull away from touch, who refuse to connect":
"Many hearing and sighted societies prize [distantia, or standing apart] highly, and their members seek to maintain physical distance, however thin those margins may be. Their rulers and heroes stand alone--the more remote they are, the more highly esteemed they are. Even when the less privileged are squeezed closer together due to poverty, exploitation, or as punishment, distantism manifests itself in the long lines, tight cells or [cubicles], and above all, their being removed out of sight and hearing. For all the hype around its ability to connect the world, technology has often served to isolate people in every other way."
Mending Fissures
Gerard Quinn, Special Rapporteur on disability for the United Nations, wrote about how disabled people can play a transformative role in peace building processes. It's a report that shows how moral repair and transformative justice can and should be linked with disability, but largely haven't been so far.
Quinn argues that disabled people "carry with them an instinct for rebuilding societies based on broad principles of inclusion and equality":
"Disability rights is a visibility project that values human difference positively. This instinct for inclusion is, in itself, a vital glue to help mend fissures and build new political realities. Anything that helps reframe our collective political imagination away from narrow self-defining and implicitly exclusionary conceptions of the political community should be welcomed and make for a more sustainable process of peace and stability."
As I said last time, I appreciate a bold imagination of the contribution that a disability view can make, but I am sceptical. Disabled people don't have the instinct for inclusion any more or less than anyone else does. Just to touch one example, veterans with disabilities are the most likely disability group to be involved in rebuilding after conflict, but sometimes that's done in contrast to other disabled folk. As Quinn himself writes:
"Much depends on the alliance-building capacities of veterans with disabilities and their willingness to flex their moral and political muscle for the benefit of the broader disabled community."
Don't impose I'm about to explode
Disability in older age. Ann Leahy has a useful exploration, based on qualitative research in Ireland, of the complexities people find with the label "disability" as they get older, and how it interacts with social ideas of ageing.
Machismo of traditional reading culture. In Japan, Sao Ichikawa won a literary prize for her novel "Hanchibakku" (the hunchback). She calls for the publishing industry in Japan to further embrace electronic publishing for accessibility, rejecting the "machismo of traditional reading culture".
Dip hop. Katelyn Best wrote a great feature on deaf rappers using sign language in a genre called "dip-hop". Sign of the times is a celebration of the genre and I particularly enjoyed Sean Forbes' Calm Like a Bomb: "don't impose, I'm about to explode".
This is surely over
In Mexico, Odilia Agustín told Yo También about arriving for a job interview, after many rejections (translation from Spanish):
'I was so skeptical that I arrived, as always, with the idea that they were going to say no. I told them with fear, a low voice on the phone, that "I'm coming to the interview with a wheelchair" and to my surprise they said "it's great that you told us to find an accessible room." Damn, that had never happened to me.

At the end of the interview I remember saying to myself, it's over, they've seen me now and they know what they'd have to deal with. But they called me the next day for another interview, this time with three directors. Leaving, I said to myself again, "the person who is going to be my boss saw me and was scared, this is surely over."

But no: they called to tell me that they liked my profile, that it had what they were looking for, but that also they were afraid, they weren't prepared, that there were many barriers still unknown to them. I valued that honesty and I said yes. They gave me the opportunity for me to say if we would work together: I made the decision.'
Thirteen years later, Agustín is working at director level in the same company.
Quotes of the month
And to wrap up with some other quotes that I enjoyed recently...
Equal opportunity. A satirical headline from Squeaky Wheel:
"Grocery Store Hires Disabled Students, Giving Them Equal Opportunity to Experience American Capitalist Machine."
Getting to the revolution. Nu Misra on the disability movement:
"We don't just walk into revolutions, but also wheel, limp, hop, crawl into one or initiate one for ourselves."
On the other side. Eddie Ndopu on how disability led him to rethink excellence:
"The honest truth is that the more barriers that I have been able to break down as a person with a disability, the more barriers have awaited me on the other side."
Speech and silence. Alice Wong on losing her ability to speak after surgery:
"The worlds of speech and silence intersect and overlap. Silence isn't static or limiting. Silence is not an empty void. Silence has a landscape of its own. Silence has its own dimension, a space that enables another way of thinking and being. There is dignity in all forms of communicating."
We want peace. A disabled group protested violence in Manipur, India, holding signs that had these phrases:
"Do not kill civilians, we are disabled, We want peace, Save our life, Do not burn our house, Long live Manipur."
That's all for today folks. Do stay in touch with disability news from your lives. Cheers,
Peter
Please forward this to a friend, people find the Debrief through word-of-mouth. On socials we're on
Linkedin
, twitter at
@DisDebrief
and I'm
@desibility
. And hit reply to say hello!
Acknowledgements
Thanks to Tan Kuan Aw for the illustration, and as ever to Davey for advice.
Disability Debrief is supported by the individuals and organisations that read it. This edition has support from Sightsavers and K. Li.